By John Southee on Jul 29, 2010 in J. Benjamin & Tee-related Articles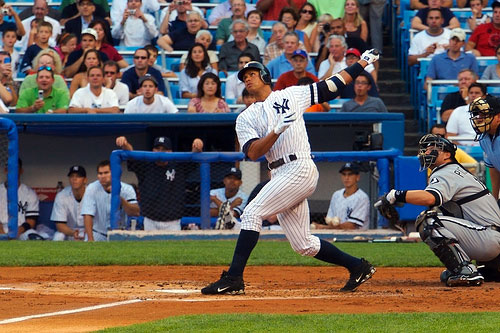 Being a big Yankees/baseball fan, ever since last week when Alex Rodriguez hit his 599th home run, we at J. Benjamin Clothing Co. have been patiently waiting for #600.  We have been watching closely since last Friday hoping to witness live what will make Alex only the seventh player in MLB history to hit 600 or more home runs.
Why would this be of interest to non-Arod, Yankees, or baseball fans?  Well, as we anticipate this historical moment, we would like to offer fans of J. Benjamin Clothing Co. something that will make it fun to watch while we all wait.  We will offer free shipping (VALID on U.S. orders ONLY) on all orders until number 600 is hit.  That's right, there will be free shipping for as long as it takes Mr. Rodriguez to hit his 600th home run!
We're kind of hoping for a reverse jinx here and that he may possibly hit it tonight but if he doesn't we will continue to offer free shipping until he does.  Good luck to Alex and enjoy free shipping for as long as it lasts.
Please feel free to use the sharing icons below to share this special with your friends.
No related posts.
Related posts brought to you by Yet Another Related Posts Plugin.